A guide for building backyard homes in
Alameda, California
Learn about local zoning guidelines, financing options, and getting started with building a custom ADU in Alameda, California.
It's Alameda. A charming island city with a thriving arts scene, historic Victorian homes, and beautiful beaches. From the bustling Park Street business district to the serene shorelines of Crown Memorial State Beach, it's a slice of paradise nestled in the San Francisco Bay.

Bring your family, friends, and neighbors closer with a beautiful backyard home.
You can build an ADU by right in your backyard
An ADU can increase the value of your home
An ADU is easy to finance using your home equity
Prefab vs. traditional built ADUs
Why Type Five offers you the best of both worlds
There are two methods to build a backyard home or ADU: traditional or prefabricated/modular construction. 
Traditional Construction: This is the most common type of construction and involves hiring a contractor to build your home from the ground up. The advantage of traditional construction is that you have more control over the design and construction process. The disadvantages of traditional construction are that it is usually more expensive and takes longer to build.
Prefabricated/Modular Construction: This type of construction involves building your home in a factory and then delivering it to your site. Prefab offers the advantages of faster build times and opportunities to reduce the overall cost of building. However, prefab doesn't offer the breadth of customization and design flexibility to fit your preferences, the building codes, and the space available for you to build.
At Type Five, our approach combines the best of both worlds, offering you design flexibility with the cost savings and convenience of prefab. Here are some of the notable features:
Customizable: Every Type Five ADU is customizable online. You can select the size, color, layout, amenities, bedrooms, finishings, and more without paying thousands of dollars in design fees.


Turn-Key Service: Thanks to our streamlined process, you can ditch the chaos and stress of managing the complexities of building your backyard home. We'll draw up your plans, get them approved by the city, and manage construction, so you don't have to. Our platform allows us to be your project's architect and general contractor, saving you enormous time and money while giving you the peace of mind that you're getting an amazing service and product.


Fast Delivery: A Type Five ADU is usually ready to move in within 4-6 months. Our tightly integrated process from design to build means you can expect to own your ADU shortly after finishing your design. You can expect clear timelines, little to no back and forth, and weeks instead of months of construction on your property.


Upfront Guaranteed Pricing: We guarantee your price right in our design process before you even submit a deposit. You can say goodbye to financial surprises & unexpected "change orders" because every project comes with a guaranteed maximum price before the building starts. This means you can accurately budget for the other things in your life… like your retirement or that vacation you've been thinking about!

What's the bottom line? If you want a backyard home but don't want to deal with the hassle and expense of traditional construction, then prefabricated/modular construction is the way to go. And if you want the convenience of prefab with the flexibility of custom design, then we've got your back.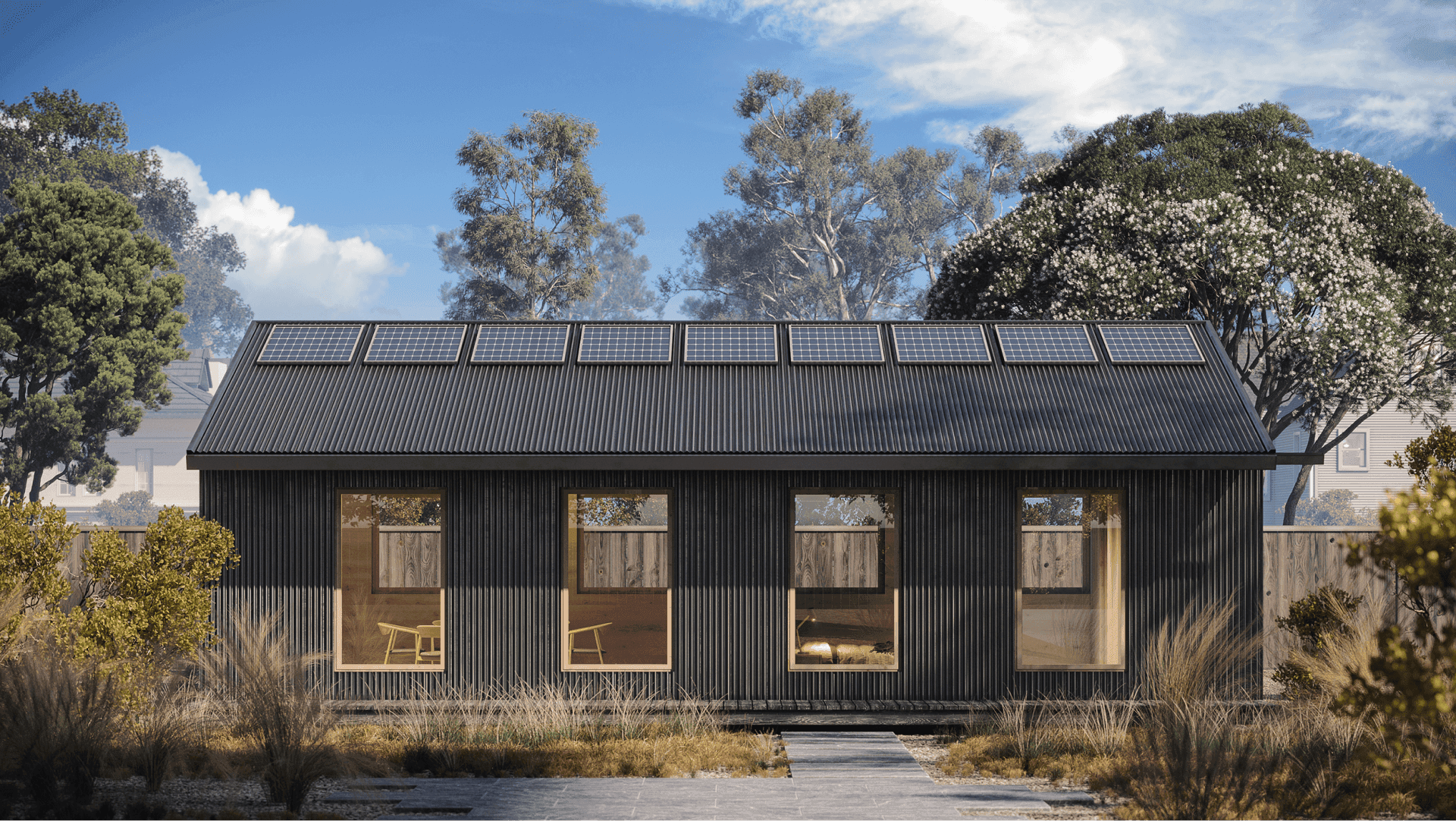 Design and customize your ADU online today.
Customizable to your needs
Our modular design system makes it possible to pick the right shape, size, colors, and features.
Move-in ready in 6-8 months
Our turnkey process handles everything from permitting to site work and construction.
Transparent, guaranteed pricing
We remove the abiguity in costs and stay true to your budget.
Our Process
Simple, turn-key, and stress free
Our Process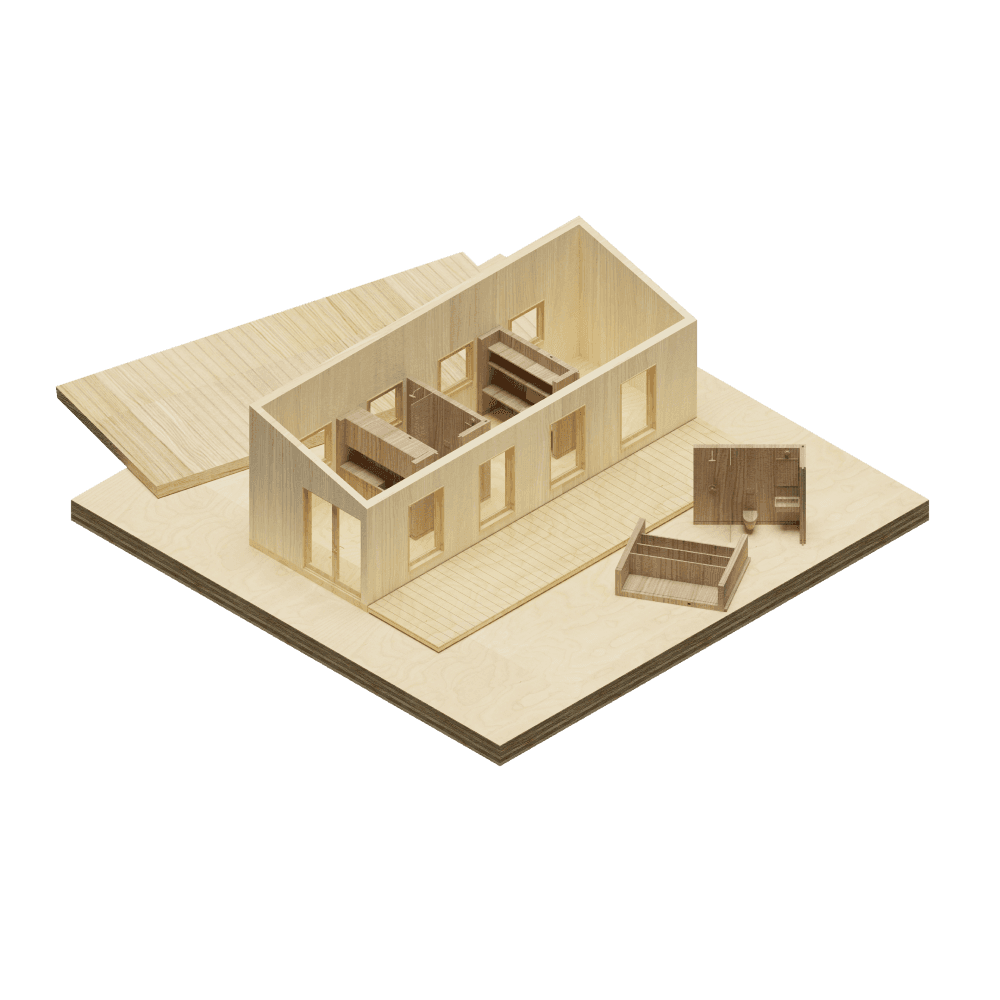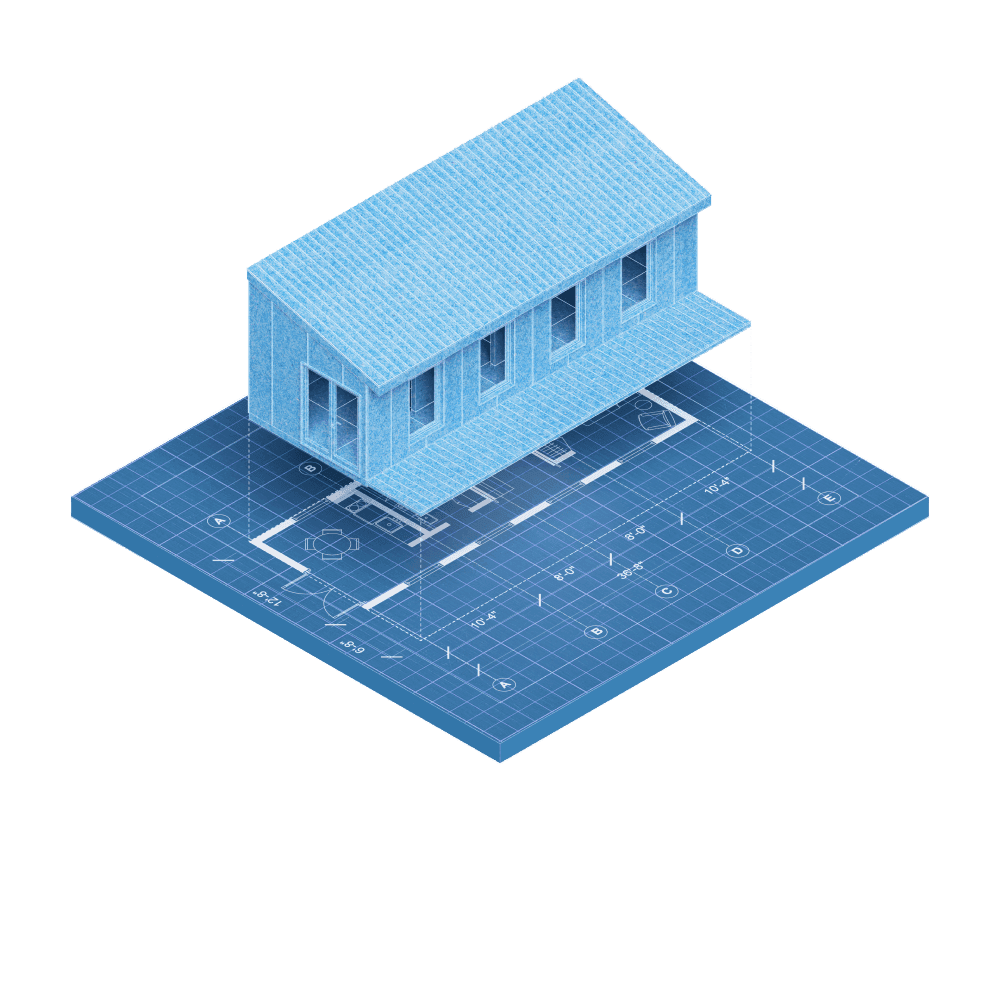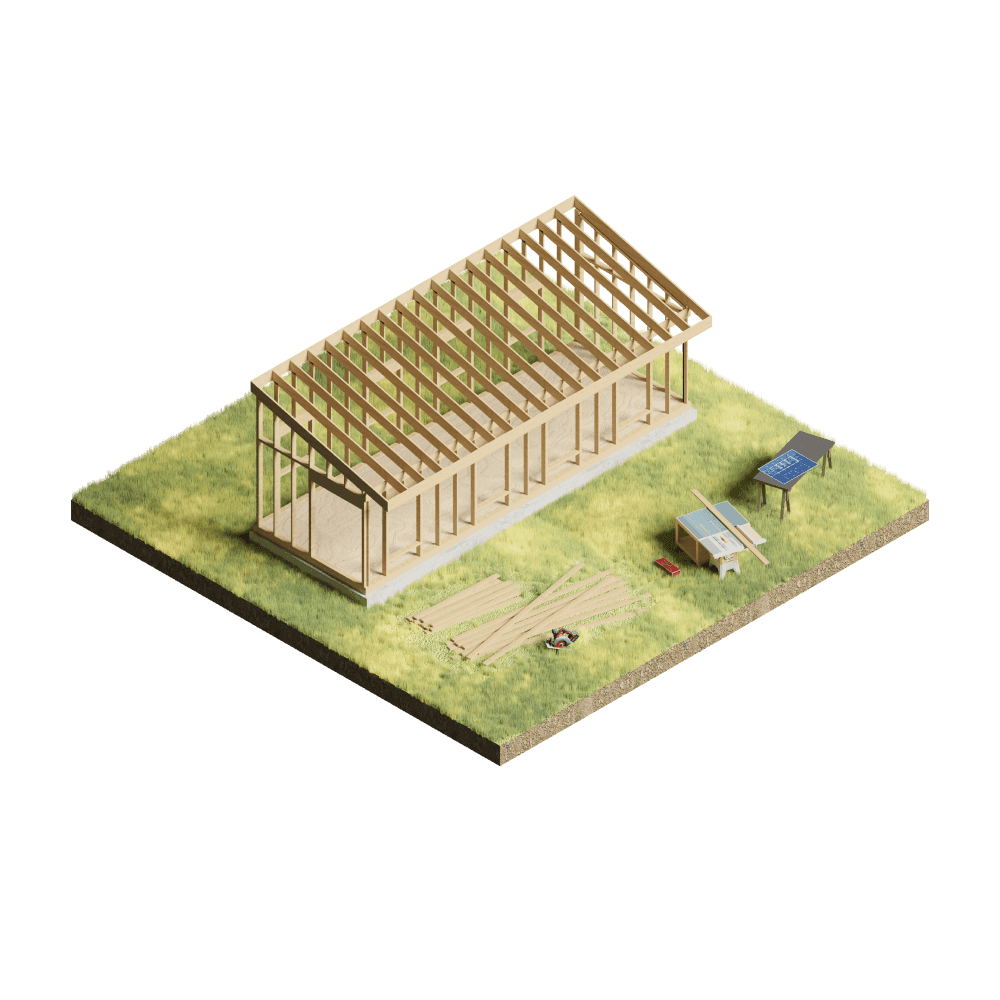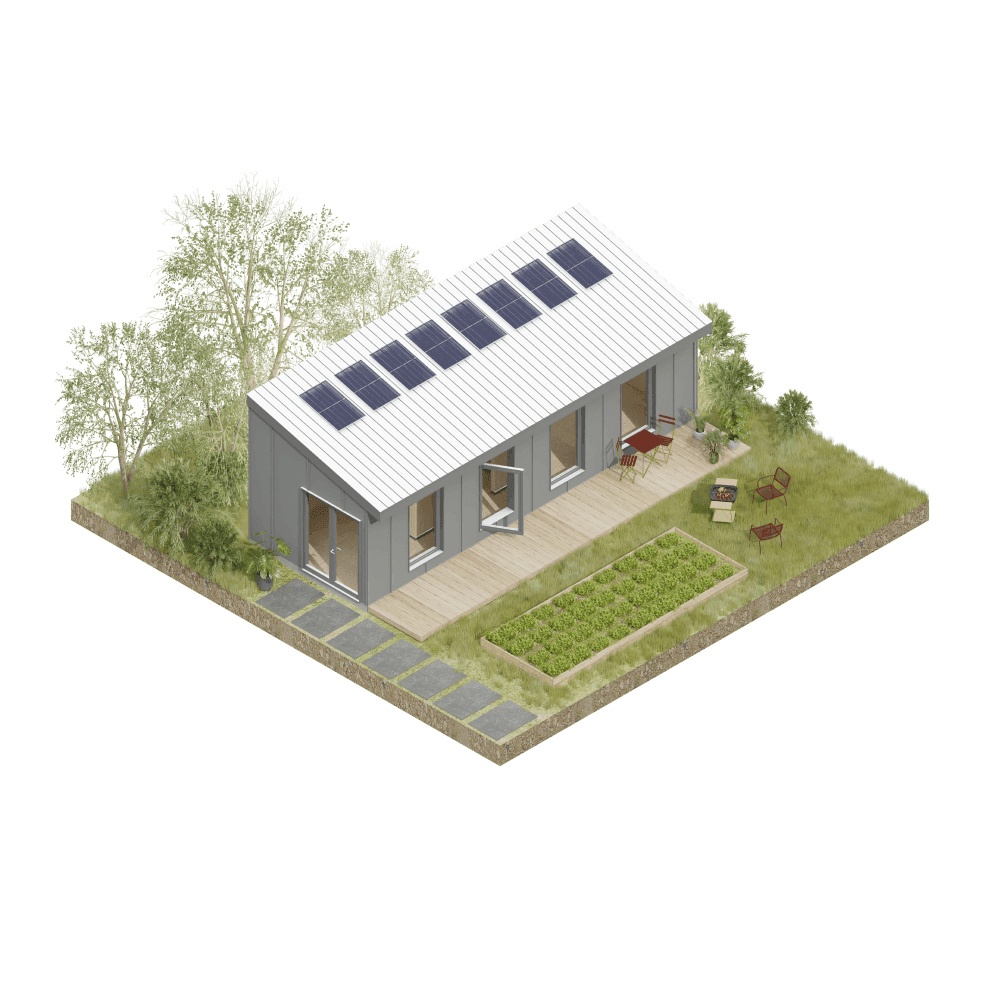 Alameda's ADU Guidelines
Frequently asked questions about what you can build in Alameda
Can I build an ADU on my property in Alameda?
Accessory Dwelling Units (ADUs) in Alameda are allowed under state law, and a single-family home may construct at least one ADU. ADUs are allowed on residential properties that have an existing or proposed single-family home or an existing multi-family building.
Do I need a permit for an ADU in Alameda?
Yes, a permit is required to construct an Accessory Dwelling Unit (ADU) in Alameda. The permit process will vary depending on the type of ADU you are constructing and the regulations in place in your specific location. At Type Five, we handle the entire permit process for you.
How long does it take to get a permit for an ADU in Alameda?
The length of time it takes to obtain a permit for an Accessory Dwelling Unit (ADU) in Alameda will vary depending on several factors, such as the complexity of the project, the availability of city staff to review and approve the permit application, and whether the ADU meets the requirements of the city's ADU ordinance. In general, it is recommended that you allow at least several weeks to several months for the permit process.
At Type Five, we take care of your entire permit process. Our ADU plans meet the highest construction and building code standards across California, ensuring that our permits are approved in the shortest time possible.
How many ADUs can I have in Alameda?
According to the city's ADU ordinance, single-family properties may have one ADU and one Junior ADU (JADU), while multi-family properties may have up to 25% of their existing primary dwelling units as ADUs, with a minimum of one ADU per property. ADUs that do not meet the requirements of the ADU ordinance may be subject to different regulations.
Is there a minimum lot size for an ADU in Alameda?
No, there is no minimum lot size requirement for an Accessory Dwelling Unit (ADU) in Alameda. According to the city's ADU ordinance, ADUs are allowed on properties with residential uses, regardless of the size of the property. This means that you can build an ADU on your property, even if it is small or has a small lot size.
With Type Five, you can design an ADU to fit whatever available space you have in your backyard. Our system can flex and adapt to ensure you can build high-quality livable space even if it's in a smaller area. Get started with designing your ADU here.
Is there a minimum and maximum size for an ADU in Alameda?
Yes, there are the minimum and maximum size requirements for Accessory Dwelling Units (ADUs) in Alameda. According to the city's ADU ordinance, the maximum size of an ADU depends on the type of ADU you are interested in building. For example, the maximum size of a detached ADU on your property will be different than the maximum size of an attached ADU on your property. In general, the maximum size for a detached ADU is 800 square feet, while the maximum size for an attached ADU is 850 square feet for a studio or one-bedroom unit and 1,000 square feet for a unit with more than one bedroom.
Type Five's ADUs can adapt to various sizes to fit your needs. Get started with designing yours here.
Can you build a 2 story ADU in Alameda?
In general, you should be able to build a two-story Accessory Dwelling Unit (ADU) in Alameda, provided that it meets the city's regulations for ADUs. In Alameda, the maximum height for an attached ADU is 16 feet, and the maximum height for a detached ADU is also 16 feet. However, detached ADUs that are located partially or entirely above a garage may be allowed to exceed 16 feet in height in certain circumstances.
Type Five offers a two-story model that fits Alameda's requirements.
How many bedrooms can an ADU have in Alameda?
According to California state law, there is no limit to the number of bedrooms an ADU can have in the city of Alameda. The California HCD ADU handbook states that a limit on the number of bedrooms could be construed as a discriminatory practice towards protected classes, such as familial status, and would be considered a constraint on the development of ADUs.
How close to the property line can I build an ADU in Alameda?
According to the city's ADU ordinance, attached and detached ADUs must be located at least 4 feet from the side and rear property lines. Conversion ADUs and junior ADUs, which are ADUs that are created by converting existing space within a single-family dwelling or an accessory structure, are not required to meet minimum setback requirements if the existing structure complies with the city's setback requirements.
Does an ADU need its own electrical panel, water meter, or gas meter in Alameda?
It is not required for an Accessory Dwelling Unit (ADU) to have its own electrical panel, water meter, or gas meter in Alameda. However, it may be necessary depending on the size and design of the ADU and the availability of utilities on the property. In general, ADUs are not required to have new or separate utility connections, and the connection fee or capacity charge for utilities should be proportional to the burden of the ADU on the water or sewer system.
Are fire sprinklers required in an ADU in Alameda?
According to the city's ADU ordinance, ADUs are only required to provide fire sprinklers if sprinklers are required for the primary unit (the main dwelling on the property). The fire flow and water pressure on the adjoining streets must also meet the minimum requirements set by the fire marshal.
Every Type Five ADU meets the highest fire safety standards for the state of California.
Is solar required on an ADU in Alameda?
You are required to install solar panels on your ADU in Alameda if your ADU is a newly constructed, non-manufactured, detached ADU. All Type Five units come with solar upgrades.
How much can I rent an ADU for in Alameda?
You should be able to rent an ADU in Alameda for $2,332 which is the average monthly rent for a one bedroom apartment so long as the rental term is longer than 30 days. There is no owner-occupancy requirement for ADUs built before December 31st, 2024.
Can an ADU be used as an AirBnB or short-term rental in Alameda?
It is important to note that in Alameda, short-term rentals (defined as rentals lasting less than 30 days) are generally not allowed in Accessory Dwelling Units (ADUs). However, there are some exceptions to this rule, including if the ADU is located on the property of the host's primary residence, the host is present on the property during the rental period, the rental duration is at least two nights, and certain other conditions are met. You should consult with the city of Alameda to determine if your specific situation meets the requirements for short-term rentals in ADUs.
Can your HOA prevent your ADU build in Alameda?
Your local homeowners association (HOA) cannot prohibit the construction of an ADU or JADU in Alameda. Assembly Bill 670 (2019) and AB 3182 (2020) amended Section 4751, 4740, and 4741 of the Civil Code to preclude common interest developments from prohibiting or unreasonably restricting the construction or use, including the renting or leasing of, an ADU on a lot zoned for single-family residential use.

Covenants, conditions and restrictions (CC&Rs) that either effectively prohibit or unreasonably restrict the construction or use of an ADU or JADU on such lots are void and unenforceable or may be liable for actual damages and payment of a civil penalty.
How does an ADU affect property taxes in Alameda?
Your property taxes will slightly increase based on the added value of the ADU. The base value of your property will not be reassessed. As an example, if an ADU will add $100,000 in value to your property, and your property tax rate is 1.1%, then your property tax would increase by $1,100 ($100,000 x 1.1%).
How much does it cost to build an ADU in Alameda?
The average cost to build an ADU in Alameda is between $350-$412 per square foot. Keep in mind there are a ton of factors to consider when estimating the cost of a project, many of which are unique to your property and sometimes require special surveys to identify. Examples of these factors include whether or not your property is flat or sloped and whether or not you need to upgrade your utilities.

It's also important to note that converting an existing structure or converting your garage into an ADU isn't necessarily cheaper than building a brand-new detached ADU.
You can get an in-depth overview of what goes into the costs of building an ADU in your city by starting to customize your ADU using Type Five's design tool. Get started by going here.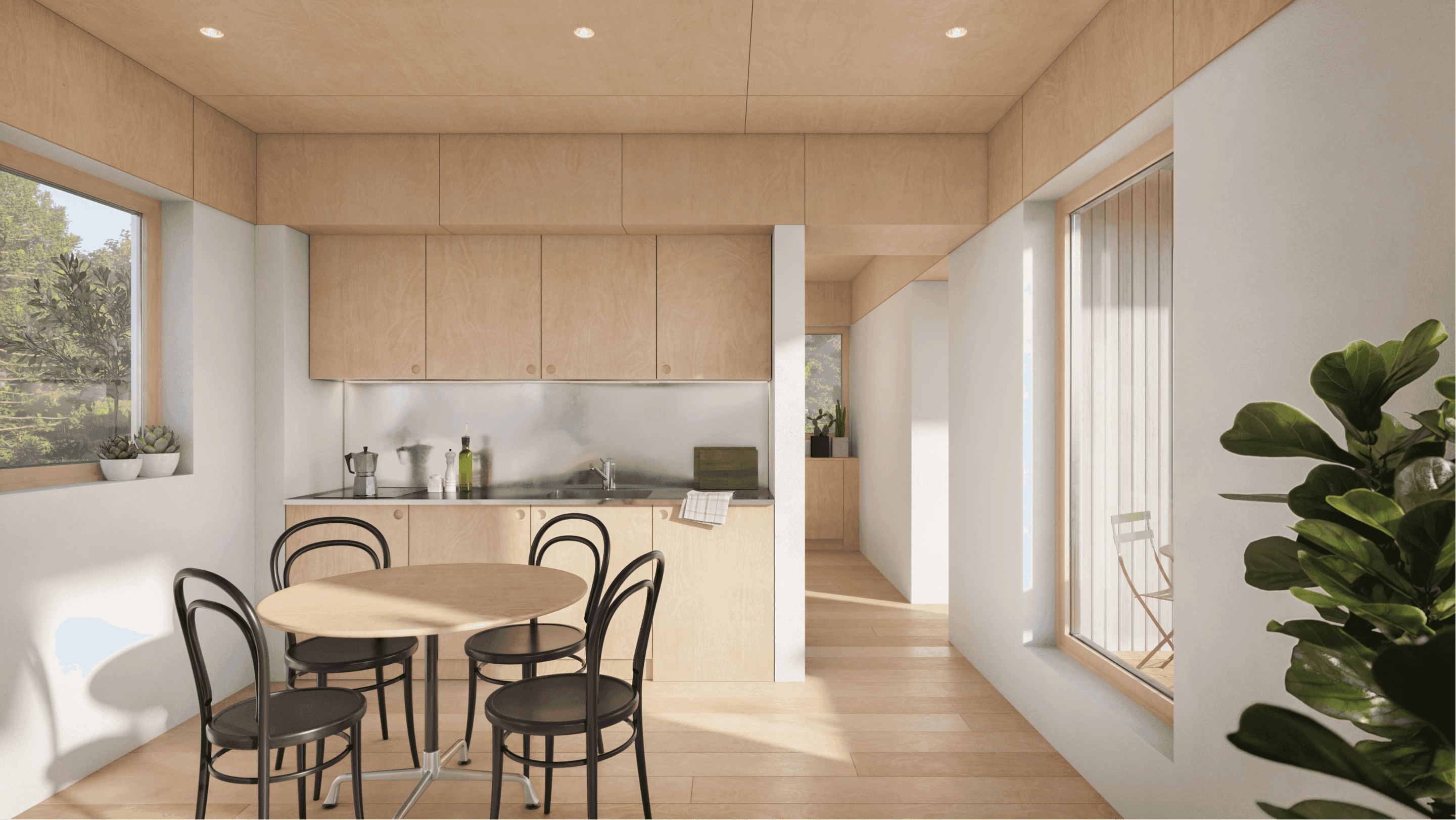 Backyard living at its finest
Type Five brings architectural design and quality to your Alameda backyard at an unbeatable price.